My memory takes me back to late Christmas Eve of 2013. Saint Vincent and the Grenadines' Christmas celebrations were jolted by a sudden tropical trough. On that night, it felt as though the showers would never end. I was just 16-years-old at the time and I felt helpless. In the Caribbean region, heavy rainfall in December was unprecedented because our hurricane season typically spans from June to November. Nevertheless, the rainfall continued into Christmas Day, and when it was all over, there was island-wide damage to key sectors: road, electricity and water infrastructure was wrecked, 122 houses were destroyed, banana, root crops and vegetables were damaged affecting local farmers, the maternity and pediatric wards of the hospital were flooded, and 9 human lives were lost. Many of the deceased included infants and young people. This tropical system also had similar effects on the neighboring islands of Saint Lucia and Dominica.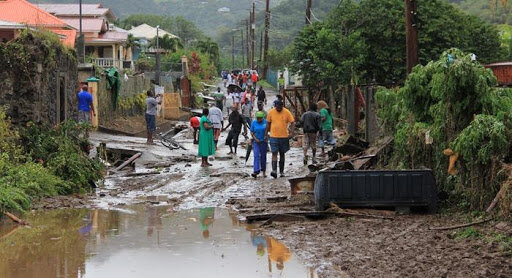 Another recent yet unfamiliar weather event, which also had devastating effects on our communities and environment, has been the periods of drought. For the past few weeks Saint Vincent and the Grenadines, and many other islands in the Caribbean have been grappling with prolonged shortages in the water supply, which Barbados' Meteorological Services has reported as being the worst in the past 72 years. While I can speak of the inconveniences locals face due to water rationing, I can only imagine the negative effects that this drought is having on our wildlife. Projected to continue well into 2020, a long-term drought can result in a change in the rates of reproduction for many plants and animals and eventually, a loss of our indigenous species.
These two unprecedented events strongly signal that our lifestyles must be altered to adapt to our changing climate. This requires urgent action by young people. Without a complete shift in our mindsets and actions, our generation will struggle in a world depleted of resources and a gloomy existence in a diminished environment. I believe that if one person could be a good example in their community, they could inspire their peers to follow suit.
In pursuit of this goal, I founded a local youth organization in 2019 called SPARK SVG. Focusing on advocacy and service we are a network of committed youth leaders that share ideas and collaborate to create innovative projects in pursuit of the Sustainable Development Goals (SDGs). We work tirelessly to inspire, empower, and motivate young people in Saint Vincent and the Grenadines to ignite positive change in their communities. As stewards of environmental sustainability, we share knowledge about how young people and children can incorporate sustainable living into their daily lives.
"I believe that if one person could be a good example in their community, they could inspire their peers to follow suit"
Apart from the threats to water, soil, forests, and animals, the Caribbean is a risky region for human rights and environmental defenders. The Regional Agreement on Access to Information, Public Participation and Justice in Environmental Matters in Latin America and the Caribbean referred to as the Escazú Agreement, seeks to ensure access to information, citizen participation, and access to justice in environmental matters. First approved in March 2018 after a 6-year negotiation, the agreement develops principle 10 of the 1992 Rio Declaration on the Environment & Development. My passion for environmental protection led me to become a Youth Champion of the Escazú Agreement.
The Caribbean stands to gain significant benefits from ratifying the agreement and our governments need to make this agreement a reality as soon as possible. To date, in the Caribbean region, Antigua and Barbuda (most recent), Guyana, St. Kitts and Nevis, St. Vincent and the Grenadines have ratified the historical agreement. However, Grenada, Haiti, Jamaica, Dominican Republic, St. Lucia, Bahamas, Barbados, Dominica, Belize, and Trinidad & Tobago are yet to ratify. Remarkably, the United Nations Economic Commission for Latin America and the Caribbean (ECLAC) and the Organization of Eastern Caribbean States (OECS) established the Enhanced Programme of Action to reinforce implementation in member states and further achieve the mandates of the 2030 Agenda.
The year 2020 marks the beginning of the Decade of Action considering that we are only ten years away from the 2030 deadline to achieve the SDGs. The Decade of Action requires an accelerated drive towards sustainable solutions to global challenges which includes promoting and participating in meaningful legal instruments like the Escazú Agreement. My experience as a Youth Champion has allowed me to network with dynamic environmental advocates and learn about activities across the Caribbean. I have brainstormed ideas and best practices with the other Escazú champions in Latin America who have shared their experiences with land rights and numerous environmental disputes. Nonetheless, there is still much work to be done to ensure that all governments not only sign, but ratify the Escazú Agreement.
Innovative strategies are needed to address not only the current pandemic, but the natural disasters caused by climate change. Since young people and children are the epicenters of innovation, we must use creative strategies, methods, and ideas to reach grassroot communities when promoting Escazú. Whether it is by joining your local youth environmental group, starting a campaign,  or supporting the ratification of The Escazú Agreement, it is prime time for YOUth to participate meaningfully in climate action!
To learn more about the agreement, feel free to take this course or register to the Regional Public Mechanism to receive important updates on Escazú and discover how you can participate. 
Nafesha Richardson is a final year undergraduate law student at the University of the West Indies (Cave Hill Campus) and the founder of SPARK SVG. She became a Youth Champion of the Escazu Agreement in March 2020 and is the only Youth Champion in the Caribbean region.