Juliana is a 15-year-old environmental activist from Colombia that participated in CERI's Latin America and Caribbean child and youth consultation in 2019. She is the first child to address the UN Human Rights Council demanding the recognition of children's right to a healthy environment at the Annual Full-Day Meeting of the Human Rights Council on the Rights of the Child (ADRC) on 1 July 2020.
1. WHERE ARE YOU FROM? HOW OLD ARE YOU? WHAT ACTIVITIES OR GROUPS DO YOU PARTICIPATE IN? TELL US ABOUT YOU.
My name is Juliana Torres Marín, I was born in Bogotá, Colombia. I'm 15-years-old. I live with my mother, a rural teacher, and my twin sister in the mountains of the beautiful municipality of Thames: heart of the Antioquia southwest. I am currently in grade ten at the Víctor Manuel Orozco Agricultural Educational Institution.
I like art, science and music. I am involved in the Santa Cecilia Municipal band where I am a baritone apprentice and CineToti, an audiovisual broadcasting project. I am also part of the School of Sustainability Pollinating the Territory, where we mainly learn about birds, and the Committee for the Environmental Defense of the Territory (CODEATE) in coordination with the Cinturón Occidental Ambiental -Western Environmental BeltWestern Belt Environmental (COA).
2. HOW HAVE ENVIRONMENTAL PROBLEMS AFFECTED YOU? YOUR PEERS AND THE COMMUNITY?
There are several environmental issues that significantly affect me and the people that live in my community. One is extractivist projects, especially those done by mining companies, because they endanger the water sources and biodiversity of the region. Another issue is monocultures which are affecting the biodiversity of our mountains and endangering species representative of our region. Finally, there are hydroelectric projects that break the balance and dynamics of the flows and tributaries of water which modifies the ecosystemic and social relations of the organisms that inhabit these territories.
Thinking of a future where life with our indigenous traditions as we know them will not exist generates despair and fear in children like me.
3. WHAT ENVIRONMENTAL PROBLEMS ARE IMPORTANT TO YOU? WHAT ARE YOU DOING TO TAKE ACTION ON ENVIRONMENTAL ISSUES?
One of the main environmental problems in the southwestern region of Antioquia is the presence of mining-energy extraction projects. As an active participant in environmental organizations, I am engaged in a lot of political advocacy addressing this issue. This includes the collective development of agreements, community life plans and mandates regarding the use of land and water, and the creation of a "dream" map of our municipality in connection with the other municipalities in southwestern Antioquia. We work to bring visibility to these agreements in local and regional political spaces.
We also work to ensure that children and young people have spaces for real participation, from the recognition of our territory to sustainability and agro-ecological schools, artistic representations. We create spaces where, in addition to learning, we can reflect and make decisions about the present and future of our territory.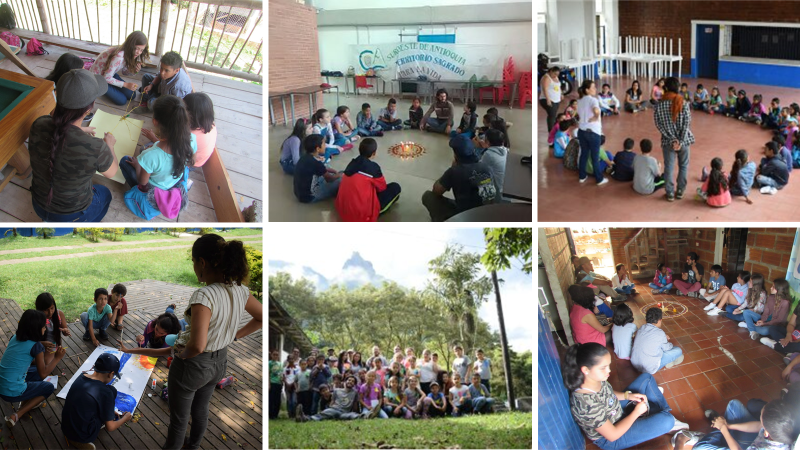 4. WHAT INSPIRED YOU TO TAKE ACTION ON ENVIRONMENTAL ISSUES? WHEN DID YOU START PARTICIPATING IN ENVIRONMENTAL ACTIVISM?
I was inspired by the idea of a future where everything beautiful around me could be destroyed by extractivist companies that only seek to make a profit. And worse still, that they manipulate and take advantage of people with economic difficulties to receive social recognition.
For these reasons, mainly, I began to participate in environmental groups since I was 13-years-old together with my mother and sister. It started with the School of Sustainability in coordination with the COA.
5. WHAT ARE YOU GOING TO DO IN THE ANNUAL FULL-DAY MEETING OF THE HUMAN RIGHTS COUNCIL ON THE RIGHTS OF THE CHILD (ADRC)? WHAT DO YOU HOPE TO ACHIEVE THERE? HOW DO YOU FEEL ABOUT SPEAKING AT IT?
At the ADRC, I will represent the children and young people of Latin America. But, rather than representing them, I will represent their struggles, resistance, disagreements, dreams and hopes in the face of a better world. I look forward to the fulfillment and real commitment by world leaders of what was agreed in the Latin American and Caribbean consultation on environmental rights of children and young people on May 2 and 3, 2019.
I feel excited to be the young woman to represent NNAJ. I hope to do it in the best possible way and to make visible all the richness in the cultural and environmental diversity of Latin America.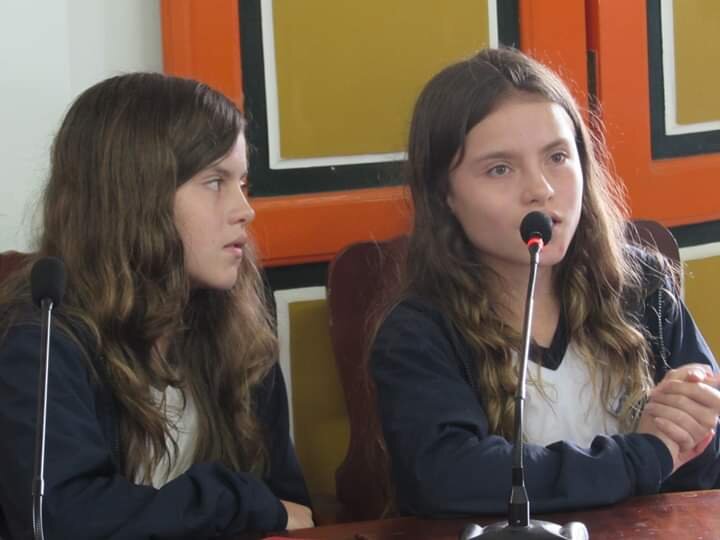 6. WHY IS IT IMPORTANT TO RECOGNIZE CHILDREN'S RIGHT TO A HEALTHY ENVIRONMENT? WHAT DOES IT MEAN TO YOU TO RECOGNIZE A CHILD'S RIGHT TO A HEALTHY ENVIRONMENT?
Because it allows us, young people of the world, to develop in a better way, both physically and socio-emotionally, since we can live in a healthy and harmonious environment, where we live with the other forms of life on the planet.
7. HOW CAN OTHER YOUNG PEOPLE TAKE STEPS TO GUARANTEE THEIR RIGHT TO A HEALTHY ENVIRONMENT?
We young people must first recognize our territories, and thus their problems and how they affect us in order to demand and propose, actively participating, the rights that are being violated.
The fact that we do not have to dream of a situation that should be legitimate. We should not have to imagine what it would be like to live in a better world, but rather we live in it.
"We should not have to imagine what it would be like to live in a better world, but rather we live in it."
8. WHAT STEPS DO YOU WANT WORLD LEADERS TO TAKE TO ADDRESS THE ENVIRONMENTAL PROBLEMS THAT AFFECT CHILDREN AND YOUNG PEOPLE?
Governments must recognize us as political actors in decision-making and take urgent measures to create spaces for diverse child and youth representation and participation. They must comply with national and international agreements that seek to eradicate deforestation in Latin America and treat water as a fundamental right. They need to protect and secure mechanisms that guarantee the life and physical and socio-emotional integrity of social-environmental leaders, who have been violated and killed under the unpunished gaze of our rulers.
Watch Juliana's address to the UN Human Rights Council at the Annual Full-Day Meeting of the Human Rights Council on the Rights of the Child (ADRC) on 1 July 2020.