I'll never forget the first time I spoke at the United Nations (UN). In commemoration of the International Day of Peace, the United Nations Headquarters in New York City wanted to hear from young students championing Climate Action for Peace. Until that moment, my work had been on campaigns, outreach, and youth-led organizations, but never with the UN. When my application was chosen in September 2019 and I ecstatically received a UN day pass, I never thought that less than 2 years later I would be having regular meetings with Member States, speaking at UN climate negotiations, and in a leadership position for a summit convened by the UN Secretary-General.
Here are 5 lessons I learned as a young person in the United Nations:
Being involved in the UN means being surrounded by acronyms. From COP26, to COY16, YOUNGO, UNFCCC, NDCs, IPCC, and more, these many acronyms can be very intimidating to someone who is a newcomer to the UN system. Know that you are not alone – all of us have had to go through the process of learning these acronyms – and don't be afraid to ask for the meaning of one when you don't already know it!

The country or countries you are from will become a large identifier for yourself. At the end of the day, the foundation of the UN is its member states, such that even if you are not a government representative, a large part of how you are identified in these international spaces will be through your nationality or nationalities. When people are meeting from around the world, it helps them to understand where you are from. Of course not everyone has lived their life in one country or feels represented by the country they are in, if this presents a challenge for you, you can often expand on your introduction/title in your remarks.

Early morning and late-night meeting times are inevitable. Due to the international nature of the UN, most virtual meetings will involve finding a time that is reasonable for diverse time zones. If you are located in the Western Hemisphere like me, international calls will likely happen in the mornings. Now I am back in Southern Brazil and in a time zone ahead of before, but when I was still finishing my Bachelor's degree on the US East Coast and started my UN Food Systems Summit position, it was normal for me to have meetings at 7 am and earlier every weekday. If you are located on the opposite side of the world, such as Australia and the Pacific Islands, it is more common for these meetings to occur at night, sometimes late at night, in your time zone.

Any young person, from anywhere in the world, can become involved in the UN. YOUNGO, the youth constituency to the UNFCCC, can be joined by anyone under the age of 30, and it is the same with the UN Food Systems Summit Youth Focus Group. The ECOSOC (UN Economic and Social Council) youth forum coming up in April is also open to the registration of all young people to share our ideas at the global level. As youth we have a right to have our voices heard in these UN spaces and need to plug into these initial opportunities, which can lead to speaking at UN negotiations and representing the views of young people.

There will be people who won't take you seriously, keep going. Even after the UN structure brings you in, the UN cannot keep control over every interaction you will have, and many of these spaces we are now working in are not accustomed to having youth at the table. After all, the United Nations did not have an envoy on youth until 2017 and the 2021 UN Food Systems Summit will be the first UN summit to have incorporated youth throughout its leadership. You will likely interact with at least one person who will not take you seriously because of your age. This is not your fault and is not an impossible obstacle either. You can form adult allies, keep track of those who stand up for youth, lean on support when necessary, and help bring other young people into these spaces to stand with you.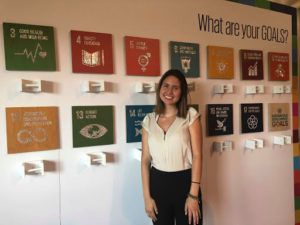 Lana Weidgenant is a youth activist and the Vice-Chair of Action Track 2: Shifting to Sustainable Consumption Patterns for the UN Food Systems Summit 2021. She is also Deputy Partnerships Director for Zero Hour, an international youth-led climate justice organization, part of the Global Coordination Team for YOUNGO (the youth and children constituency to the UN Framework Convention on Climate Change), and a Country Coordinator for COY16, the 16th UN Climate Change Conference of Youth, and the official precursor youth event to COP26, the United Nations climate change conference happening at the end of this year.